REDANG - ODER WO LIEGT DAS PARADIES?
Urlaub jenseits der ausgetrampelten Pfade
by Heike Huntebrinker
German version
'Redang - Wo ist Redang?' Diese Frage stellten mir viele Backpacker auf meiner Reise durch Malaysia. Ich hatte mir vorgenommen diese von den Backpackern noch nicht entdeckte Insel zu ergruenden. 'Von den Backpackern noch nicht entdeckt' heisst aber nicht, dass es auf dem Eiland in beschaulicher Ruhe zugeht. Ganz im Gegenteil ist es ein beliebtes touristisches Ziel für die Malaien selbst. Dieses tut aber dem Genuss von Ruhe, Meeresrauschen und den traumhaften Tiefen des Meeres keinen Abbruch.
Begonnen hatte alles im Netz, wo ich das Angebot des Redang Beach Resort entdeckt hatte. Larry, ein Tauchlehrer des Redang Beach Resort, hatte auf meine zaghaft schuechterne Anfragemail nach einem Tauchurlaub auf Redang so schnell geantwortet, dass mir gar keine andere Wahl blieb, als mich Mitte September gemeinsam mit meiner Freundin Birgit auf das Inselchen schippern zu lassen. Gespannt waren wir, was uns die naechsten sechs Tage erwarten würde. Zunaechst einmal waren wir hin und weg vom azurblauen Wasser und dem puderweissem Sandstrand.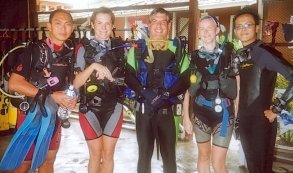 Trotzdem blieb eine gewisse Grundnervositaet unverkennbar. Schliesslich hatten wir uns einiges vorgenommen. Wir als zwei Tauch-Greenhorns, die wir sind, hatten vor, gegenseitige Tauch-Buddies zu sein. Unser Anliegen wurde dann auch nicht verworfen, sondern von den Tauchlehrern lediglich augenzwinkernd als 'ambitious' bewertet. Nach dem ersten Tauchgang mit nicht unerheblicher Stroemung und ebenso nicht unerheblicher Panik, war ich dann auch froh, dass die helfenden Haende von Tauchlehrer Tee und Divemaster Pan sowohl unter als über Wasser immer in der Naehe waren. Ausserdem haetten wir gewiss ohne die Zwei so manche Schoenheit des Meeres nicht entdeckt. Rochen, Schildkroeten, bezaubernd exotische Fische, bizarre Felswaende und atemberaubend schoene Korallen erwarteten uns.
Immer wieder taeglich streiften wir nun die geschmeidige Haut des Tauchanzugs ueber. Und jedesmal aufs Neue wusste ich, welches Gefuehl ichin den zwei Jahren, in denen ich nicht getaucht hatte, vermisst hatte: Wurst in Wurstpelle. (Tee meinte zwar, dass ich eher aussehe wie eine für Nachttauchgaenge geeignete Taschenlampe, aber das ist eine andere lange Geschichte...) Die Assoziation mit Wuerstchen hat mich dann wohl auch dazu bewegt, an meinem Mundstueck zu knabbern. Ich bin zwar verfressen, aber auch Feinschmeckerin: So musste ich feststellen, dass das Silikon meines Mundstuecks nur grenzwertig gut schmeckt. Dann doch lieber die taegliche Portion Reis.
Auf Redang wurden selbst kleine Probleme durch die freundschaftliche Atmosphaere eher zu einem Abenteuer. So erwies es sich als nahezu unloesbare Herausforderung einen internationalen Call nach Deutschland zu machen. Doch für jedes Problem gibt es auch eine Loesung: Man erklimme einen Felsen und wedle so lange mit dem Handy bis man Empfang erhaelt. Es funktioniert! Aber wer will schon ernsthaft Telefongespräche im Urlaub erhalten?
In jedem Fall machten die Insel und die Fluten suechtig. Selbst wenn man nicht getaucht ist, gab es direkt am Strand wunderschöne Korallenriffs zu erschnorcheln. Die Entzugserscheinungen meiner Sucht koennen meine Kollegen im Buero noch heute erleben, immer dann wenn ich mal wieder mit glasigen Augen von meinem Urlaub erzaehle. Es war kein Traum: Dann muss es wohl das Paradies gewesen sein.
English version
REDANG - WHERE ELSE COULD PARADISE BE?
Holidays off beaten paths
'Redang - Where is Redang?' - I was asked this question by many backpackers on my journey through Malaysia. I decided to find out more about this island, which was still unknown to backpackers. 'Still unknown to backpackers' does not mean things are tranquil on this island. On the contrary, it's a popular destination for Malaysians. Nevertheless you can find the pleasure of calmness, the rush of the surf and absolutely beautiful depth of the sea.
The whole story started with the Web, where I found Redang Beach Resort. Larry, a dive instructor with Redang Beach Resort, replied very quickly to my timid email inquiring about diving-holidays at Redang. I therefore had no choice but to proceed with my friend Birgit to this small island. We could hardly wait to know what would happen in the next six days. But first of all, we were in ecstasy over the azure blue water and sandy beach which was white like powder.
We were also pretty nervous. Well, both of us were greenhorns at diving and we intended to be mutual dive-buddies. Our request was not rejected by the instructors (but judged as 'ambitious' - with a wink of the eye). During my first dive (the current was strong and I was at a loss), I was very glad for the helping hands of instructor Tee and divemaster Pan who were both (above and under water) always quite close. Certainly we wouldn't have discovered so much of the beauty of the sea without them. There were rays, turtles, delightful exotic fishes, bizarre underwater cliffs and beautiful corals.
Every day, I slipped into the sleek skin of my diving suit. And it reminded me of the sensation I had missed for the two years I didn't dive: Sausage in sausage skin. (Well, Tee remarked that I'd rather look like a torch for night dive. But that's another long story...) Probably my thought of sausages also inspired me to nibble at my mouthpiece. It's true, I am greedy, but I am also a gourmet: That's why I had to realize that the taste of silicon of my mouthpiece is - let's say - very limited. Then I rather prefer the daily portion of rice.
On Redang even small problems can become an adventure due to the friendly atmosphere and nature of the people. For example, it was almost an unsurmountable challenge to make an international phone call to Germany. But for every problem you can find a solution: You climb up to a rock and wave your mobile around so you can get a connection. It works! But to be honest, who wants to get or make calls during holidays?
You would definitely get addicted to the island and the sea. Even if you were not diving, there were wonderful coral reefs close to the beach for snorkelling. Till now, my colleagues at the office can see the withdrawal symtoms of my addiction, when I tell them with glassy eyes about my holidays. It wasn't a dream: Then it must be paradise.

NOTE:
Heike lives in Darmstadt, Germany where she works as a sports-marketing manager for a German internet provider. She learned scuba diving during her trip to Australia in 2000, but she did not dive again until Redang. Now, after her Redang experience, she is looking forward to her next dive as she realises there are so many nice dive-sites around the world to visit.....