PROJECT AWARE - UNDERWATER & BEACH CLEAN-UP
by Larry Lam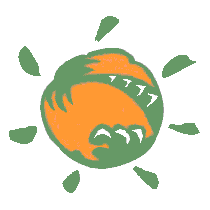 Redang Beach Resort / Redang Aquatic Adventure held their annual underwater and beach clean up on 21st September to 23rd September as part of their Project AWARE this year.
On the 21st evening, Mr Liew Hock Chark of SEATRU (Sea Turtle Research Unit of University College, Terengganu) was invited to give a slide and video presentation. He delivered a talk on the impact of human activities on the marine environment and turtle conservation program. This is followed by a cheque presentation ceremony. The management of Redang Beach Resort presented SEATRU a cheque as contribution towards their cause. The evening ended with participants purchasing souvenir items from SEATRU.
Mr Liew and his wife, Dr Chan Eng Heng are among the recipients of this year's Global 500 Award. The prestigious awards are presented every year by the United Nations Environment Programme (UNEP) to individuals and organisations who have made outstanding contributions to the protection of the environment.
The next morning, participants were invited to visit Chagar Hutang (Turtle Beach). It is located on the northern part of Redang Island. This is the project site of SEATRU where turtle eggs are incubated in situ. Visitors were given a guided tour to the nesting sites along this beach. The turtles that landed here were mainly Green Turtles. A few Hawkbill Turtles have also made their way up this beach to lay their eggs. The egg laying season starts in March and tapers off in October. This year (till end of September) more than 428 nests have been purchased by SEATRU from the licensed egg collectors, who would have otherwise taken them to be sold in the market. That is why funds are needed to purchase them. It is estimated that over 250,000 eggs have been saved here since the project started in 1993, with some 200,000 hatchlings returned to the sea.
The underwater clean up was conducted at all our regular dive sites during our dives over the three days while the beach clean up was carried out in the late afternoon of 23rd September.
The second evening was spent viewing the delightful underwater images captured on slides by Tiger Yeoh and Grace during their visits to Redang and their oversea trips to Indonesia, Thailand, Papua New Guinea and the Philippines.
On the last evening, Mr Liu Saow Hong showed footage of the video he took (with his brand new digital video camera) during the clean up.
A total of 70 persons (divers and snorkellers) took part in this weekend of activities.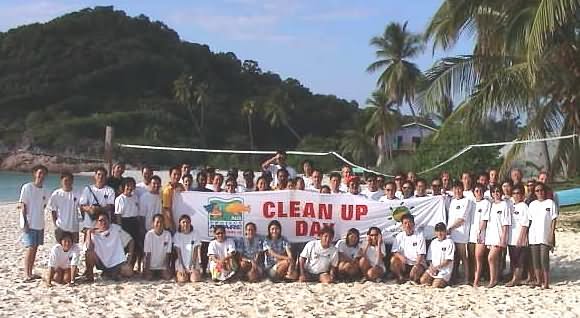 Redang Beach Resort / Redang Aquatic Adventure would like to express their appreciation for the support and effort of everyone who helped and contributed to the success of this event.

Names of participants:

| | | |
| --- | --- | --- |
| LIEW HOCK CHARK | NATHAN GANASAN | ALLAN A KRONENBURG |
| DR GOH TAI HENG | KAREN CHIA SU-MIN | ANNA M KRONENBURG |
| GUOY LEE LE | PAUL JAMBUNATHAN | DATO' DR. ABDUL JAMIL ABDULLAH |
| MICHELLE LIM | DR JASMEET SINGH | SHARIFAH NUR ANTHASHA |
| FENNIE CHIN | REZAL ZAIN | RAJA ANIZA RAJA ABDULLAH |
| LOW TZU-SINN | PETER CHOY | LAING AH WAH |
| PHOON KWEE SIONG | WONG KWONG WAH | LEE KONG CHONG |
| TAN SIEW LAN | LIM CHI JEOW | WAN KIN FEI |
| MABEL WOO | EILEEN KOH | TEO CHER HIAN |
| MAH CHEE MENG | PETER KOY | CHAN HOOI TZE |
| HONG BOON SIEW | KOH SWEE CHENG | PAUL BOEY MUN THENG |
| LIM EAM SENG | CHOO TIAN HOON | TOH WAN |
| GAN KEE LEONG | JIMMY TAN | TAN CHEE KHEONG |
| LEE KAH CHOON | YEOH TENG KHENG | GRACE KHEW SIU LI |
| TAN AH SUAN | GOH MIIN MING | YEOH SWEE EONG |
| FAYOL CHAN | KARIM YOSTOS | BIANCA HARTMANN |
| LEONG WAN PENG | WONG CHEE SIM | RUDYANTO BIN AZHAR |
| CHAI SAN SAN | UDO HOFFMANN | THORSTEN FAHLBUSCH |
| SHINOZAKI KAORI | JAN HELLQUIST | PETER EMANUELSSON |
| LI MO CHING | MASUDA MAYUKO | LI SAU YU |
| KON LAY HOON | WONG YIM MING | PANG LI YEN |
| TEE KOK YAU | LIU SAOW HONG | LAM JOO ON |
| MOHD RIZAL | CHUA YEOW CHUAN | TEO HOCK WAH |
| LIEW SANG | | |