SZE YA TEMPLE
(Compiled with the assistance of Wong Fot Jaw and Cheong Kam Hon
Updated by Billy Woo.)

The Sze Ya Temple is officially known as the Sin Sze Si Ya Temple (Chinese Phonetics Han Yu Pin Yin - Xian Si Shi Ye). This is the oldest Taoist temple in Kuala Lumpur. It is one of 13 temples (all located in Peninsular Malaysia) dedicated to a local deity - Sin Sze Ye (Chinese Phonetics Han Yu Pin Yin - Xian Shi Ye), who is worshipped as the guardian deity for the local Chinese miners. His original name was Sheng Meng Li and was also known as Shin Kap and Sheng Kong.

Sheng Meng Li was a Kapitan Cina for Sungai Ujong (Seremban). He was captured by his enermies and beheaded in 1862. Legend has it that the blood that flowed when he was decapitated was white instead of red. He was also credited with supernatural powers. As a result, the local Chinese began to worship him as a deity (Chinese practice of ancestral worship). The oracles of this deity was said to have guided Yap Ah Loy (Yap Tet Loy - the third Kapitan Cina of KL) during the Selangor Civil War (1870-1873).

Yap Ah Loy had previously served under Shen Meng Li, decided to honour him by starting the Sze Ya Temple in KL. In 1864 Yap Ah Loy brought the joss stick ashes from the first Xian Shi Ye altar (located at the Tien Koo temple in Rasah, near Seremban) to KL. It was initially housed in a small wooden attap hut, which was a Guan Yin temple in the backyard of his residence. He also donated RM500 (a big sum of money in those days) and allocated 6 lots of land for the construction of a proper temple. In 1882, a building of bricks and tiles was built to replace the hut.

Si Sze Ye (Chinese Phonetics Han Yu Pin Yin - Si Shi Ye) was Yap Ah Sze (Ah Sze Keledek). He was a successful businessman who was murdered in Kanching. Yap Ah Loy probably considered Yap Ah Sze a benefactor. The latter had declined an offer to succeed Liu Ngim Kong as Kapitan Cina of KL after Liu's death. This paved the way for Yap Ah Loy to become the next Kapitan Cina. Yap Ah Sze and Hiu Siew (the first Kapitan Cina of KL) were the first Chinese traders in KL.

Another version says that when Yap Ah Loy's loyal lieutenant Chung Lai (also known as Chung Piang and Chung Si) died, he was deified to be known as Si Sze Ye. There is no evidence to indicate which version is correct but the former appears more credible.

Yap Ah Loy died in 1885 and was deified by his clansmen in 1956.

Sze Ya Temple is known for its charity work. This is done through a trust established in 1907. It comprises of 12 trustees representing the different Chinese clans. Two thirds of its income is donated annually to charitable causes - for educational purposes and to hospitals.

The temple is located behind the old double-storey shop houses between Jalan Tun H.S. Lee and Jalan Hang Kasturi, near the Central Market. It was built based on feng shui principles. This explains why the building is out of alignment with the surrounding roads and buildings. In the old days, this temple was the Chinese religious and community centre of Kuala Lumpur. It was the place where the leaders held meetings and made important decisions about the administration of the Chinese community.

The temple comprises a main hall and two side halls. Refer to the layout of the temple below for the locations of the various idols and images. Century old sedan chairs, used in the religious procession in the old days, are displayed at the entrance. The entrance also bears a memorial plaque honouring the pioneers - Chan Sow Lin, Yap Ah Shak, Yap Ah Loy and Yap Kwan Seng.

Visitors can sometimes witness the practice of old Chinese customs. Worshippers may be seen praying to the White Tiger Deity - to stop defamation by others. Others could be seen crawling under the platform/table used during prayer - to reduce/eliminate the worshippers' burden in life.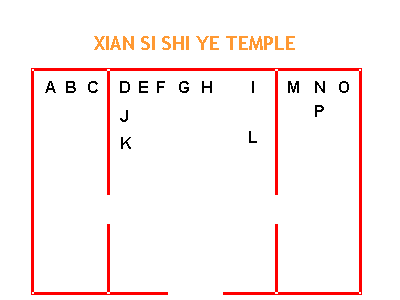 Location of the various idols and images in Sze Ya Temple.
A) Bai Hu Ye - White Tiger.
B) Tai Sui Ye - Master of Deities for Prosperity, Health & Good Fortune.
C) Cai Shen Ye - Deity for Good Luck and Fortune.
D) Yap Ah Loy (photograph).
E) Hua Guang Da Di - Deity of Artistes & Craftsmen.
F) Tan Gong Xian Si - Deity of Medicine & Health.
G) Si Sze Ye (Chinese Phonetics Han Yu Pin Yin - Si Shi Ye).
H) Sin Sze Ye (Chinese Phonetics Han Yu Pin Yin - Xian Shi Ye).
I) Guan Di Wen Chang - Deity of Education, Scholar & Prosperity.
J) Yap Ah Loy (bust).
K) Cai Bo Xing Jun - Deity of Business.
L) Fu De Zheng Shen - Deity of Prosperity.
M) Hua Fen Fu Ren - Deity of Beauty.
N) Guan Yin Pu Sa - Goddess of Mercy.
O) Jin Hua Fu Ren - Deity of Fertility.
P) Gautama Buddha - Founder of Buddhism