The Charms of Redang
by Ed-Linddi Ong
So much has been said about this idyllic island off Terengganu. Crystal clear waters, white sandy beaches, and abundant marine life (offering the perfect getaway from the hustle and bustle of the city) are reasons good enough for us to brave the long 12 hour journey from Singapore.
We arrived in Redang at 10am, and as we approach the resort we were greeted by the wonderful marine life, dancing almost in unison with the soft currents. I knew immediately that I would enjoy my next few days there, taking in the sights and going through the PADI open water diver course, my first step to becoming a scuba diver.
As soon as we checked in, we went straight for our lessons in the classroom. Our instructor was Larry Lam, or affectionately known as 'Uncle Larry'. Over the next couple of days, Uncle Larry took us through the lessons, starting with VCDs and quizzes. We finally progressed to our first dive at 'Tanjung Tengah', and I (at long last) experienced the wonderful feeling of being surrounded by marine life underwater.
We did 5 dives altogether including our first boat dive blessed by crystal clear waters at 'Black Coral Garden', an 8 minute boat ride from the island. After the dive, we went through the last part of our course, which included learning to fill our dive log and a couple more drills. After lunch, we did our final quiz and were certified after that.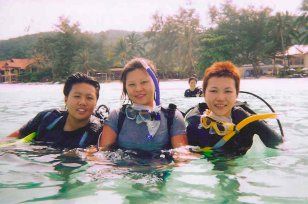 Not getting enough of the beautiful ocean, we did another dive in the afternoon at 'Maxi Mount'. It is a submerged mount at 12 to 18 metres of water. Unfortunately, the water wasn't as clear this time. I also struggled with my buoyancy, but thankfully managed to release the air from my BCD with the help of Pan, our divemaster. After the dive, Uncle Larry went through the buoyancy techniques with me, refreshing the various points taught earlier.
The next day, I was restless not having anything to do. I itched for yet another underwater world experience, and decided to go for a boat dive in the afternoon, this time at 'Pulau Paku Kecil', a minute's boat ride from the island. The water condition was not at its best. There was a current and the visibility was low. I had to kick hard to fight the current. We saw two large stingrays and a turtle during this dive.
The day before our departure, I went for a morning dive at 'Batu Tokong', about 12 minutes boat ride away. The water was very clear and we had the opportunity to go through many 'swim throughs'. I also enjoyed this dive very much as I finally managed to see what people have been talking about - the nudibranch: a snail without its shell, as my buddy puts it.
We went back to the island, played some volleyball and relaxed in the water a little, and spent the evening enjoying the cool breeze and soothing music from the bar.
I learnt that diving was easy safe and fun once you got the hang of it. During this trip, I also got to know some wonderful people like Uncle Larry, Pan, Jackie, divers like - Richard, Keng Hua, Ash, Tom, and Ah Gong, Anson, Robert, Joanna, Stella and many of the resort workers.
It was really sad when we had to leave this lovely island. My five days in Redang would not be a trip easily erased from my mind, and I would surely come back to this jewel of the Peninsular.
NOTE:
Ed-Linddi Ong is a Singaporean student who has just obtained her Junior Open Water Diver certification this holiday. She is fascinated by the underwater world and is already looking forward to her Advance Open Water Diver course.