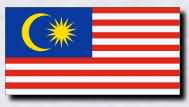 COUNTRY
The Federation of Malaysia comprises Peninsular Malaysia and the states of Sabah and Sarawak in the island of Borneo.
GEOGRAPHICAL LOCATION
Situated in the central part of South-east Asia (5o North of the Equator), Peninsular Malaysia is separated from the states of Sabah and Sarawak by the South China Sea.
AREA
329,758 sq km (131,587 sq km in Peninsular Malaysia and 198,847 sq km in Sabah and Sarawak).
POPULATION
Malaysia is a multiracial country with a population of about 27 million. Malays, Chinese, Indians and the indigenous people of Sabah and Sarawak form the majority of our population.
LANGUAGE
Bahasa Malaysia (Malay) is the national and official language of the country. English is widely spoken and is a compulsory subject taught in all schools. The ethnics groups also speak various languages and dialects.
RELIGION
Islam is the official religion of Malaysia. The people enjoy freedom of worship and this right is enshrined in our Constitution. Buddhism, Taoism, Hinduism, Sikhism and Christianity are among other religions practised here.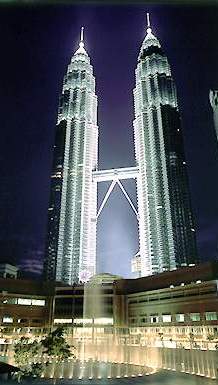 GOVERNMENT
Parliamentary democracy with a bicameral legislative system. The Head of State is the Yang Di-Pertuan Agong (King) and the Head of Government is the Prime Minister.
FEDERAL CAPITAL
Kuala Lumpur.
NATIONAL FLOWER
The national flower of Malaysia is Bunga Raya (Hibiscus Rosa Sinensis).
ECONOMIC PROFILE
Manufacturing constitutes the largest single component of Malaysia's economy. Tourism and primary commodities such as petroleum, palm oil, natural rubber and timber are major contributors to the economy.