DOING MY ELECTIVE AT REDANG
by Letitia Lim Zerr
The last five weeks has been an unforgettable enriching experience. The things I've done, the people I've met and the things that greeted my senses have been so different - I didn't even know exist before. I also feel like I've been to a grand banquet hosted by mother nature herself.
I have been working at the dive center of Redang Beach Resort on Redang Island. The center has 3 staff. They are a jovial and humorous bunch of people. Besides them, I also got to mix with the rest of the staff of this resort, many of them local islanders. They are all very friendly, creating a very warm environment at this resort. Even the guests have often commented about this. Hanging out with all these people is really relaxing. It reminds me of the simple pleasures in life.
I took the opportunity to learn scuba diving. I have no regrets. It opened up a new and fascinating world for me. The underwater world really fascinated me with its beauty and the amazing life forms in it. From huge fish as big as me, to those scary and mysterious stingrays; they give me goose bumps under my wetsuit. Every dive I keep my eyes peeled for tiny 'snails' (so colourful they put Van Gogh's palette to shame) and sea 'plants' that disappear into the coral or sand when touched. I could go on forever with description of life underwater. While learning scuba diving, I had to learn about medical problems that divers might face. From the many books found at this dive center, I manage to find out more about these problems. Thank you Mr. T for investing in books on marine life and diving. The science of diving medicine has proved just as intriguing as the other basic medical sciences.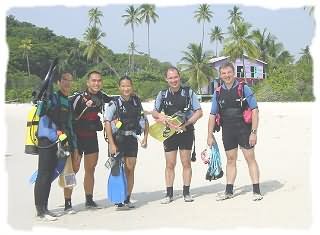 Wow, what a great learning experience! I managed to meet the objectives I've set before coming to Redang Island. I completed the PADI open water diver course successfully on 9th June 2001. During this diving course, I learnt the basics of diving. Principles concerning pressure, density and bouyancy were the main topics that a diver has to grasp. Diving techniques I had to learn include ascending and descending, maintaining neutral bouyancy and steps to take in mild emergencies. A diver also needs to learn how to use and maintain scuba equipment.
Last but not least, the PADI course introduces divers to common medical problems in diving. Divers are taught to avoid them and to recognize the signs and symptoms. In the five weeks I was here, I managed to clock more than 23 hours of diving with a total of 33 dives. All my dives are logged in my dive log book.
I slept outside at night. There are no air conditioners in the staff quarters and it gets really stuffy sleeping in. So I usually grab my blanket and pillow, set a camp-bed on a nice patch of ground in front of the quarters and slept under the stars and to the sound of waves breaking on the beach. Naturally, I do some soul searching before I drift of to 'lala' land. I search for my life vision and my niche in the world. My past experiences and people that painted my life flash like a silent movie before my closed eyes. The faces of three of my favourite and most important people in my life appear to me. They are God's gift to me; my father, mother and sister.
I have come away from Redang Island with more than I bargained for.
NOTE:
Letitia Lim Zerr is a 2nd year medical student with the International Medical University, Kuala Lumpur. She spent her elective period with Redang Aquatic Adventure Dive Centre during when she explored and pursued her interest in diving medicine. She is now an Advance Open Water Diver.