FIRST EAST COAST EXPERIENCE
by Patsy Teh
I have heard so much about the abundant beautiful marine life in Redang, so I chose to complete my PADI open water certification there. Furthermore, being my first time to the east coast of the peninsular, this would seem like an exciting and new experience for me.
I was met by Larry upon my arrival at Kuala Terengganu. I had contacted a few dive operators and agents in Redang prior to my trip and Larry appeared to be very organized and prompt with his replies to my queries. Together with a few other guests, we were taken from the airport to the jetty, where we took a 45min speedboat ride to the island. It was the end of the monsoon season in March, and we were advised of the bumpy ride on the boat as the waves could be quite high.
My first impression of the island... blue water and white fine sand!! We were greeted by the staff of Redang Beach Resort. The resort is situated on the east side of the island. There are a stretch of simple and basic resorts along the beach front and some are still in the process of being built. We checked in and then headed straight for lunch! I spent the rest of the afternoon refreshing my diving course theory and was looking forward to the dives the next day.
My first dive was at the Redang marine park headquarters. Visitors pay a $5 fee to visit the park which is valid for 5 days. This is one of the popular snorkelling site as the fishes stay close to the shore and you can easily walk knee deep into the water and feed them with bread crumbs.
Subsequent dives were at Pulau Pinang and Stephen's Stone. Being a novice diver and despite concentrating too much on keeping neutral buoyancy (for the fear of crashing into a coral or kicking them with my fins), I managed to see some interesting marine life ...humphead wrasse, banded coral shrimp, blue ring angel fish, tube anemone, sergeant fish, sea cucumbers, giant clam, moray, cushion star and lots more.
Though my stay was not long enough, I had an enjoyable time with the diving, the most friendly staff of the resort and not forgetting the tasty food served (which always make me hungry thinking about it). I can see myself coming back to Redang again in the future and would recommend it to anyone who would like to experience the beauty of Redang marine life!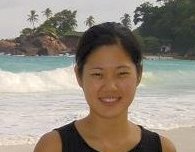 NOTE:
Patsy Teh works for an airline and resides in Hong Kong. She is very new to diving though had done some in Cebu and Maldives. Working in the airline industry gives her a great deal of opportunity to travel and dive in different places and countries. She is fascinated by the underwater world and is already looking forward to her next dive vacation, when it is going to be a different learning experience and a chance to make new friends!