REDANG
THE ISLANDS
SNORKELLING
SCUBA DIVING
MARINE PARK
CONSERVATION
SEA TURTLES

SCUBA COURSE

DIVERS' LOG

TRAVEL INFO
GETTING HERE
CLIMATE
BEST TIME TO VISIT
VISAS
MONEY MATTERS
TIME ZONE
HEALTH
ELECTRICITY
LANGUAGE
PUBLIC HOLIDAYS
TOURISM OFFICE

MALAYSIA
COUNTRY
LOCATION
AREA
POPULATION
LANGUAGE
RELIGION
GOVERNMENT
FEDERAL CAPITAL
NATIONAL FLOWER
ECOMOMIC PROFILE




Dive centres at most of the resorts on Redang Island encourage beginners to try scuba diving through an introduction to scuba program called "Discover Scuba Diving".
Sarah Verghese's article describes her first scuba experience and should provide interesting reading (especially for those who have no idea what is involved).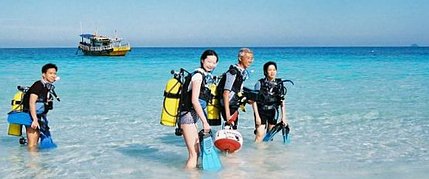 It is hard to find a better place to try scuba diving than Redang. Your first breath underwater will be an exhilarating experience, an adventure you will not forget. Here is your chance to be up close with your new found aquatic friends, an opportunity to observe, learn and find out more about them.
Experience the sensation of swimming amongst the fishes, surrounded by a vast expanse of staghorn and other corals with various hues of green, yellow, red or brown. Play with the shy clown fish hiding in between the tentacles of the sea-anemones. Numerous other marine life forms await your discovery - Christmas tree worms, crabs, coral shrimps, giant clams, sea cucumbers, sea urchins, starfishes, shells and cowries. If you are lucky, you may even encounter a turtle, ray or an eel.
It is time to dive into the "Open Water Diver" course if you have enjoyed your underwater experience. This is your ticket to a lifetime of intense adventure.



E-mail our instructors for advice and suggestions.