Scuba diving is fantastic here. These islands are continental islands, lying on the Sunda Shelf and were once connected to the mainland during the Pleistocene period. The dive sites range from shallow depth of 6 metres to 35 metres, with various terrain - sheltered bays, walls and submerged mounts.

Your have a choice of more than 20 pristine dive sites. Our map of Redang will show you the locations of our favourite.
Browse Divers' Log for more scuba diving experiences at Redang and for some up-to-date description of our dive sites.
This is paradise for beginners who wish to take up the scuba diving course.
Finding a friendly dive centre is not a problem. Most resorts have their own dive centres. The dive sites are generally located on the east side of the main island of Redang, and are within a short (15 minutes) boat ride away. Divers will be pleasantly surprised by what they can see at the coral reefs just off the beach during a shore dive. Rebreathers and Nitrox have not made their way to Redang as yet.
SURFACE TEMPERATURE
The daily temperature ranges from 22oC in the early morning to 34oC at noon.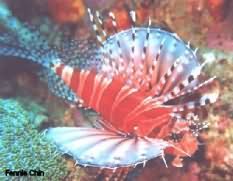 WATER CONDITION
The sea temperature is around 28oC. Thermalcline is experienced at deeper sites where the temperature may drop to 25oC.
Most dive centres consult the local tide table to avoid diving in swift currents.
The visibiity averages 15 metres. On good days, it can improve to 30 metres.

BEST TIME TO DIVE
The dive season at Redang starts sometime in March and it is good diving until early October.

JUST IN CASE
The nearest recompression facility is about 500 km away (on the west coast of Peninsular Malaysia) at Hospital Angkatan Tentera, Lumut. where the Institute of Underwater and Hyperbaric Medicine (IUHM) is located. This is also the national office for DAN (Divers Alert Network) - S. E. Asia Pacific (Malaysia).
Telephone: +6-05-9304114 (24 hours)
Email: info@iuhm.net
Website: http://iuhm.net/home.html

or alternatively


Centre for Wound Care and Hyperbaric Medicine
16, Persiaran Greentown 1
Greentown Business Centre
30450 Ipoh, Perak
Malaysia
Email: Dr. Lee Chin Thang (chin-thang.lee@shell.com)
(This centre houses a 6-person, 60-in twin-lock recompression chamber).