The waters surrounding the islands have been gazetted as Pulau Redang Marine Park under the Establishment of Marine Park Malaysia Order 1994 (Fisheries Act 1995).
The boundary of the marine park is established by a line linking all points 2 nautical miles from the shores (low water mark) of Pulau Redang, Pulau Lima, Pulau Ekor Tebu and Pulau Pinang.
The goal of Pulau Redang Marine Park is to protect, conserve and manage in perpetuity marine environment of significance and to encourage public understanding, appreciation and enjoyment of Malaysia's natural heritage by present and for future generations.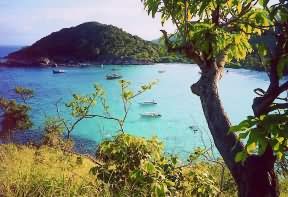 This is achieved by:-
affording special protection to the aquatic flora and fauna; protecting, preserving and managing the natural breeding grounds and habitats of aquatic life, with particular regard to rare or endangered species.
allowing for the natural regeneration of aquatic life where such life has been depleted.
promoting non-extractive and non-manipulative scientific reserarch.
preserving and enhancing the undamaged state and productivitiy of the environment.
regulating recreational and other activities in order to avoid irreversible damage to the environment.
Visitors to the Pulau Redang Marine Park have to pay a fee (conservation charge). The price of the ticket is RM 5.00 per adult. Students, senior citizens and children (12 years and below) will pay RM2.50 per person. This ticket is valid for five days.
The revenue collected is credited into the Marine Park Trust Fund and used to implement management, conservation, protection, monitoring, education and research programs in the marine park.