REDANG
THE ISLANDS
SNORKELLING
SCUBA DIVING
MARINE PARK
CONSERVATION
SEA TURTLES

SCUBA COURSE

DIVERS' LOG

TRAVEL INFO
GETTING HERE
CLIMATE
BEST TIME TO VISIT
VISAS
MONEY MATTERS
TIME ZONE
HEALTH
ELECTRICITY
LANGUAGE
PUBLIC HOLIDAYS
TOURISM OFFICE

MALAYSIA
COUNTRY
LOCATION
AREA
POPULATION
LANGUAGE
RELIGION
GOVERNMENT
FEDERAL CAPITAL
NATIONAL FLOWER
ECOMOMIC PROFILE




The Redang Archipelago lies within the 'Indo-Malayan' triangle (the area between Peninsular Malaysia, New Guinea and the Philippines). An astonishing concentration of marine species is found here due to the presence of suitable habitats such as coral reefs, mangroves and estuaries. Marine scientists consider the waters of this 'triangle' the faunistic centre from which other areas of the Indo-Pacific recruit their faunas.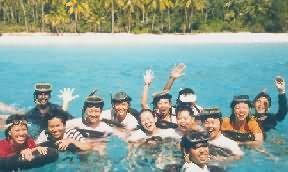 Most visitors to Redang participate in snorkelling. Snorkelling is great fun, easy to learn and suitable for young and old. You require only minimal equipment - snorkel and mask. Powered masks are also available for those wearing glasses. It is possible to snorkel with contact lenses, you just need to be extra careful. Fins are optional. Non-swimmers can make use of lifejackets and floats. These gears are available for rent at the respective resorts. Most of the resorts provide snorkelling guides to look after and assist first time snorkellers and non-swimmers.
Snorkellers looking for more adventure and excitement can try scuba diving. Redang is the perfect setting for your first scuba diving experience. Just ask for the "Discover Scuba Diving" packages at the dive centres here. Scuba diving courses are also available.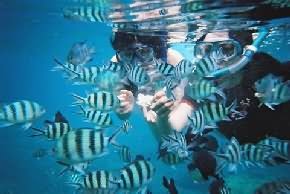 Redang offers numerous spots suitable for snorkelling. These areas are generally calm and sheltered. Colourful and interesting marine life can be seen in the fairly shallow waters of 1.5 metres to 6 metres. The resorts organise snorkelling trips (using traditional fishing boats) twice a day.
Some of the favourite snorkelling spots are:
Pulau Redang Marine Park Centre
Anemone Garden at the northern tip of Pulau Lima
Tanjung China Terjun, Pulau Redang
Teluk Mat Dollah, Pulau Redang
Eastern side of Pulau Ekor Tebu
Tanjung Mat Chantek, Pulau Redang
Tanjung Tengah, Pulau Redang
Western side of Pulau Kerangga Kechil