Sea turtles are ocean inhabiting, air-breathing, long-living reptiles. They have lived on Earth for more than 100 million years. They are our 'living dinosaurs'.
These gentle giants are highly migratory and are found in tropical and sub-tropical oceans. They demonstate extraordinary navigational capability as they move from breeding and feeding grounds and back again (which may be hundreds of kilometres apart).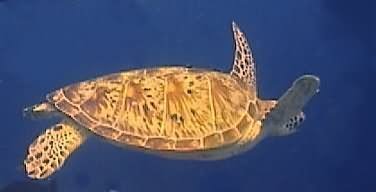 There are seven species of sea turtles in the world. Three species (Green turtle, Hawksbill turtle and Olive-Ridley turtle) frequent Redang waters. They come to mate in our sea and nest on our sandy beaches. The hatchlings scramble into the sea and return to breed upon maturity (20-30 years later). Where they disappear to until their return is still a big mystery.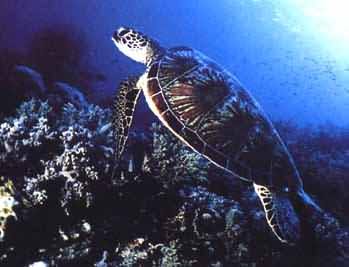 Scientists have discovered that incubation temperatures determines the sex of the hatchlings (high temperatures produce warm females while low temperatures produce cool males!).
Chance encounter with Green turtle and Hawksbill turtle while snorkelling or diving in Redang is fairly common.
The website of SEATRU (Sea Turtle Research Unit of the Faculty of Science and Technology, University Malaysia Terengganu) provides more information on the sea turtles of Redang and how you can care and contribute to their conservation and protection.